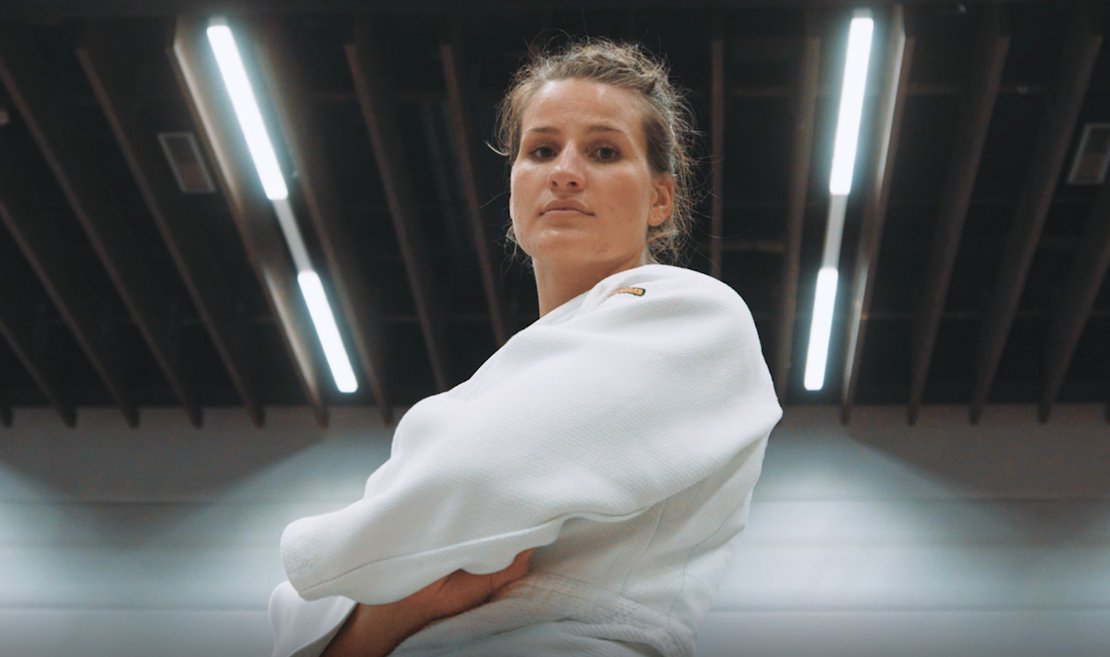 #weilichsportliebe, I give everything to get to the top.

Anna-Maria Wagner | Judoka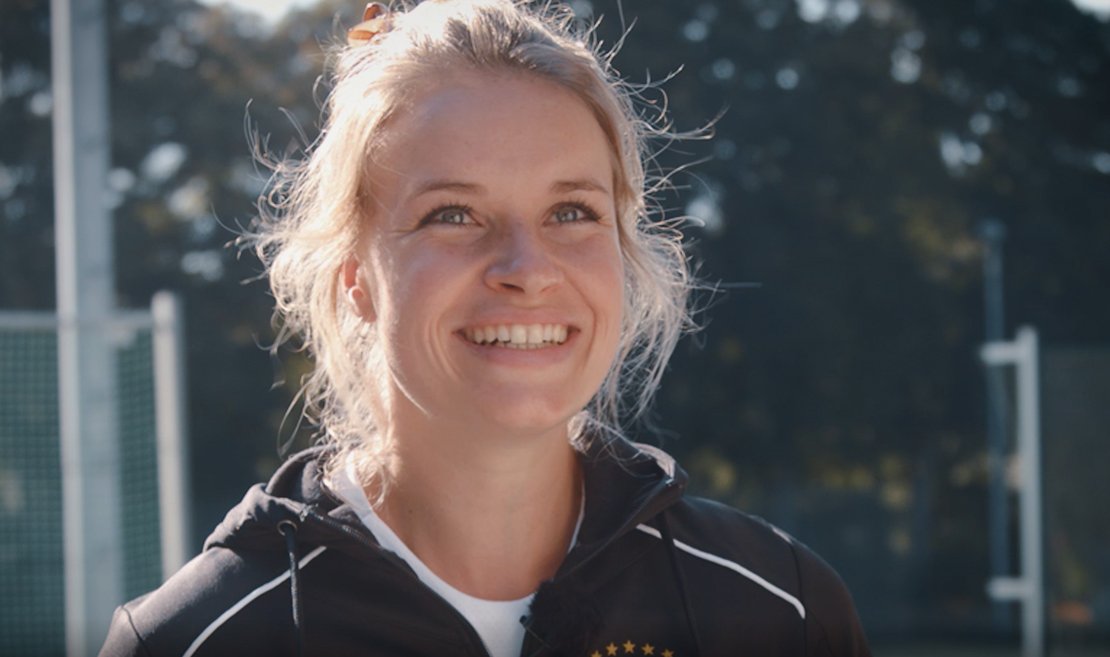 How many kilometres my parents drove so that I could play this hockey sport at all...Thanks again!

Julia Sonntag | Hockey national goalkeeper
#weilichsportliebe
In a time when it can no longer be "higher, faster, further", let's remember together the fundamental values that led us to sport. Let's collect our first sports moments under the hashtag #weilichsportliebe! How would you complete the sentence? Everyone has their own personal story, whether they are a competitive athlete or a recreational athlete. But sport connects us. Usually we all start at the same point, in childhood, for one reason: #weilichsportliebe ['cause I love sport].
We show you two personal stories here on the site: from judoka Anna-Maria Wagner and hockey national goalkeeper Julia Sonntag. The episodes will be published in series over the next few weeks. Anna-Maria will be the first. We will also provide you with material to become part of the campaign and express your love for your sport. So check back regularly.
Countdown to Tokyo 2020ne
We are starting the countdown to the Olympic and Paralympic Games in Tokyo to stand up with you for the fundamental values of clean sport. In the coming weeks, you will find several clips from our past campaigns that show the support for clean sport of some athletes. There is also a summer competition waiting for you on this page. Join in!
All #weilichsportliebe [#causeilovesport]!
In the present for the future
because I have my eye on the future with Anna-Maria Wagner
#weilichsportliebe you sacrifice a lot, but gladly. That's definitely how Anna-Maria sees it, who has her sights set on her future and is aiming for a medal at the Olympic Games. She tells us how she is pursuing her goals in her second story. Take a look.
because today prepares me for tomorrow with Julia Sonntag
Trust in yourself and your strengths. You can also overcome setbacks with self-confidence. Hockey national goalkeeper Julia Sonntag shows that a love for sport coupled with perseverance can go a long way. You never know what such experiences can be good for one day. Today prepares you for tomorrow. #weilichsportliebe
The first sports experiences
it's not possible by yourself with Julia Sonntag
Driving hundreds of kilometres five times a week. Every weekend across the Federal Republic for games. With the support of her family, hockey national goalkeeper Julia has taken on a lot to get to where she is now. All that #weilichsportliebe.
Join, share your childhood sports moments under the hashtag #weilichsportliebe on social networks.
because beginnings count with Anna-Maria Wagner
"I always had the need to move and compete..." - Judoka Anna-Maria Wagner learned to be independent at an early age through sport. She herself says that the experiences she had in sport during her childhood were formative and had a positive influence on her development. Because beginnings count with Anna-Maria - watch now!
Join our Social Media Challenge and post your first sports moments under the hashtag #weilichsportliebe!
Social Media Challenge
Anna-Maria and Julia launched a challenge with their reflections on their first sport moments: #weilichsportliebe. Join and share your first sport experiences under the hashtag. Let's refocus on the basic values of clean sport.
What values do you take away from sport: Friendship? Respect? Responsibility? Regardless of whether you are a competitive or recreational athlete, we are united by our love for sport and the fundamental values we take from sport as children.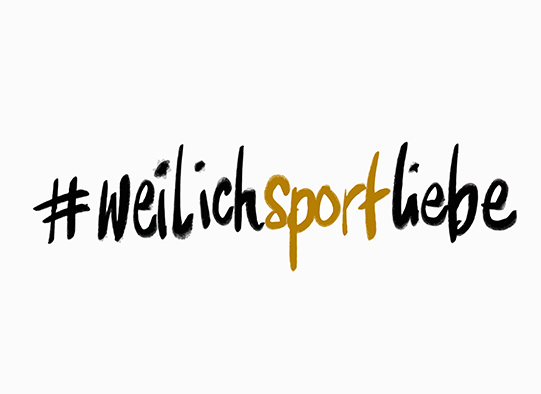 Take part in our Social Media Challenge
Share your first sports experience on your favourite network under the hashtag.
Pictograms for download
The right pictogram for every sport
Lade dir jetzt dein Piktogramm kostenfrei runter. Nutze das Piktogramm online oder für deine Printprodukte, damit jeder deine Liebe für deinen Sport sehen kann.
#weilichsportliebe, nehme ich jede Hürde. #weilichsportliebe, habe ich Freundschaften fürs Leben geschlossen.
Warum liebst du Sport? Nutze den Hashtag und/oder das Piktogramm in den sozialen und vervollständige den Satz.
Beachte vor Verwendung der Piktogramme unsere Nutzungsbedingungen.
Richte Fragen hinsichtlich der Piktogramme allgemein oder ihrer Nutzungsbedingungen an kommunikation@nada.de
Terms of use for pictograms
Copyright
The #weilichsportliebe pictograms are subject to the copyright of the National Anti Doping Agency of Germany (NADA). NADA Germany provides the pictograms of its campaign for free use for non-commercial purposes. Any use of the #weilichsportliebe pictograms must include the copyright notice ©NADA Germany close to the pictogram or alternatively in another place (e.g. in the imprint). In addition, the following instructions for use must be followed.
The pictograms can be used by clubs, federations, schools, individuals and media representatives for non-commercial purposes in the online and offline area without any time or space restrictions.
The pictograms were created by Daniel Stieglitz.
The condition of use as [PDF].
Instructions for use
Minimum size: The pictograms are adapted to the respective formats and purposes of use. The smallest image size for pictograms in print is 50 mm width/height. Depending on the printing method and screen ruling, the minimum acceptable size may be reached earlier. For screen applications, the size of the logo should not be less than 100 px width/height.
Protective space: The pictograms must be placed with the protective zone (white border) created in the file. No other elements may be placed within this area.
Colours: black (000), white (255/255/255), gold (180/126/0).
The following are not permitted: changes to the content or further development of the pictograms; altered representation by means of
Insert additional elements or change component (e.g. graphics, text, etc.);
Tilt/distortion;
Change of shape
Winter sports/disciplines
Summer sports/disciplines