30. September 2021
GIVE EVERYTHING, TAKE NOTHING at LILA LOGISTIK Charity Bike Cup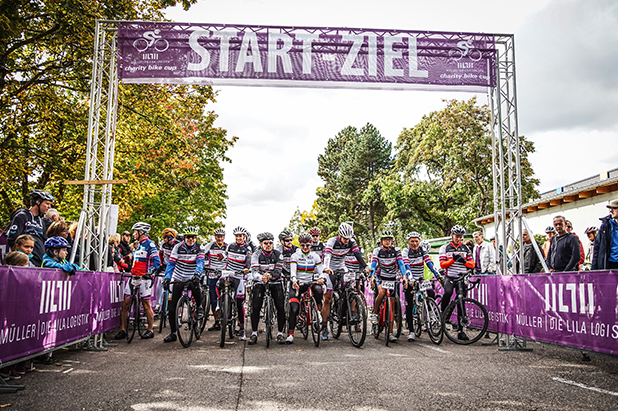 According to the motto "Have fun and do good", the organisers of the LILA LOGISTIK Charity Bike Cup set a clear example for clean and fair sport.
"Born out of the idea of being able to do something good with the most beautiful hobby in the world, many active and former cyclists quickly agreed to pedal for children in need in 2007. Also to show that cycling can do more than "doping"."
This is how the organisers Heinz & Patrick Betz begin their statement on their commitment to our initiative. In addition to educating and raising awareness of the consequences of doping in the youth sector, the commitment to clean sport rides along with the initiative slogan on the jerseys. They go on to say:
"Unfortunately, the dark side of sport often comes insidiously and good will alone is sometimes not enough to prepare young athletes for competitive sport in all its facets. The topic of doping has unfortunately remained present in cycling to this day.
In order to make a contribution to fair and clean sport beyond our commitment to sick, disabled and socially disadvantaged children, we never tire of pushing the issue of doping prevention and raising awareness among our participants and visitors.
Even if the "good cause" is our focus and the sporting aspect is of secondary importance, it is a matter of course and a matter of the heart for us to take a clear position on the subject of doping.
"Give everything, take nothing!" - that also applies to us for the Good Cause!"
(Heinz & Patrick Betz, Radsportakademie gemeinnützige GmbH)
You can also find more info and impressions of the commitment on the Instagram channel of the Charity Bike Cup: @charitybikecup.